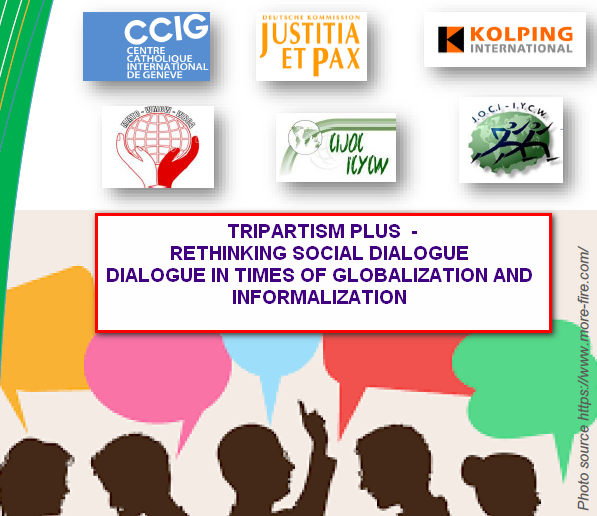 Social dialogue includes all types of negotiation, consultation and exchange of information between or among representatives of governments, employers and workers on issues of common interest relating to economic and social policy. Social dialogue gives people a voice and a stake in their societies and workplaces. It is, therefore, central to the functioning of the ILO itself.
In conjunction with the 107th International Labour Conference, this event seeks to raise awareness about opportunities and challenges associated with social dialogue, highlighting its potential and limits in our societies, as well as to facilitate a creative discussion on the different positions and approaches to reinforcing Social Dialogue within and beyond the ILO, at the national and local level. The event also intends to focus on cases where social dialogue is important to create new understandings for the need to protect informal workers and other vulnerable groups in precarious work situations.
For more information on the topic, consult ILO Reports "Social Dialogue and Tripartism" and "Ending violence and harassment in the world of work".

PROGRAM
Moderation: Ms. Hildegard Hagemann, Kolping International/GCJP
10:00 – Welcome and Opening Remarks
Prof. Dr. Isabel Apawo Phiri, Deputy General Secretary for Public Witness and Diakonia, World Council of Churches
H.E. Mgr. Ivan Jurkevic, Apostolic Nuncio, Permanent Observer of the Holy See at the UN
Ms. Maria D'Onofrio, Secretary General, CCIG
10:15 – Keynote speech: Social Dialogue as a means to promote decent work for ensuring
non-violent places of work?
Ms. Jane Hodges, Former Director, Gender Equality, ILO
10:30 – Questions and Discussion
10:45 – Inputs: Sharing of experiences of especially vulnerable groups challenging Social
Dialogue – Reality Check
Addressing Gender based violence at the workplace - Ms. Leizyl Salem, Asia Pacific Coordinator, IYCW
Empowering migrant workers - Speaker, TBC
Collective bargaining and self-employed informal workers - the example of street vendors - Ms. Lorraine Simbanda, President of Street, ZIMBABWE – partner of WIEGO
11:00 – Questions and Discussion
11:30 – Panel Discussion followed by Plenary Debate
Ms. Jane Hodges, Former Director, Gender Equality, ILO
Ms. Anna Biondi, Deputy Director, Bureau for Workers' Activities, ILO
Ms. Sarah Prenger, International President, IYCW
Employers' Representative, TBC
13h15 – Concluding Remarks
Mr. Berhanu Sinamo, International President, ICYCW